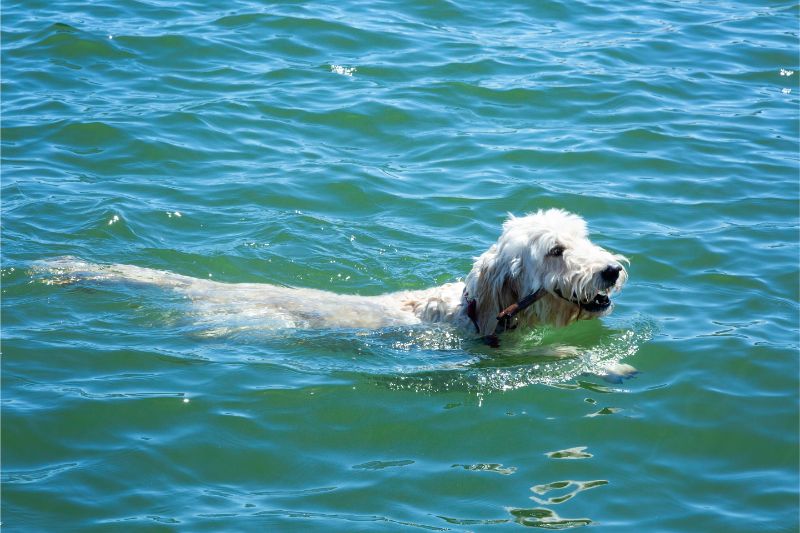 Whether you are chilling with your dog poolside or heading to the beach with your four-legged friend, water safety is a must for everyone. Many dog owners make the mistake of assuming their dogs are adept swimmers naturally, but this is not always the case. Accidents around bodies of water are common, and this is prime season for these incidents to occur.
Swimming with your fur pal can be safe and enjoyable with a little planning. The team at East Sacramento Veterinary Center is here with some dog swimming safety tips for you to dive into.
Get to Know Your Dog's Ability in the Water
Even if your pet is a Labrador Retriever, you should never dunk your dog in a pool or body of water before knowing they are comfortable. Acclimate your pet to water first by starting in a shallow body of water, getting in with them to make them feel safe. Splash around together and throw something they want to retrieve, like a floatable toy, and observe how they swim.
Some breeds need swimming lessons, believe it or not! Others are not equipped to swim at all, like brachycephalic breeds (Pugs, Bulldogs, etc) or short, stocky dogs, like Corgis. To play it safe, assume that your pet needs to learn to swim slowly and in shallow water before you head to the lake.
Tips for Safe Swimming with Dogs
When you begin to swim with your furry one, start in a shallow body of water. If possible, get into the water first, asking your pet to come in. Make sure they are enjoying the water before assessing their swimming capabilities. Splash around and play with them in the shallow end to see how at ease they are.
If your pet is comfortable swimming, you can move into deeper water. A game of fetch with something floatable can be a good way to get your dog out into deep water, and will compel them to come back to you when you call.
Other suggestions for safely swimming with your dog include:
Purchase a life preserver for dogs and use it any time you swim in lakes, rivers, and in the ocean.
Ensure you are able to get your pet out of the water, such as pulling them out of a lake to the boat, if they are in distress.
Keep your pet within your view.
There are some great pool ramps you can get that are designed for dogs (or any animal) to easily get out if they fall into the pool.
Don't let your dog drink pool, ocean, or lake water. Bring your own water and a collapsible dog bowl for your four-legged.
Make sure you bring shade for your pet in places where there are no trees, such as a boat deck or along a beach.
Avoid swimming in a natural water body when the weather is windy or about to storm.
Questions About Dog Swimming Safety
Caution is key when it comes to enjoying a day in the water with your dog. Our team is here to answer any questions about swimming with your pet. We also recommend signing up for swimming classes for pups who are unsure about the water.
Call us with any questions or to schedule an appointment. Surf's Up! Now go have some fun and make a splash with your bestie!